Elvis at 21: Photographs by Alfred Wertheimer
Closed Mar 28, 2010

Regular Hours:
M-F 10:30am - 6:30pm,
Sat-Sun 10:00am - 6:30pm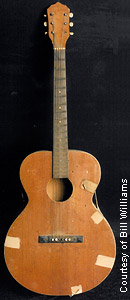 In 1956, photojournalist Alfred Wertheimer was hired by RCA Victor to shoot promotional images of a recently signed 21-year-old recording artist (Presley), and his instincts to "tag along" with the artist after the assignment resulted in 56 striking images that provide an intimate look at Elvis before he exploded onto the scene and became one of the most exciting performers of all time. The exhibit will run through March 28, 2010.
Developed collaboratively by the Smithsonian Institution Traveling Exhibition Service (SITES), the Smithsonian's National Portrait Gallery and the Govinda Gallery, the Elvis at 21 exhibition — sponsored nationally by The History Channel — will travel to museums around the country through 2013 following its premiere at the GRAMMY Museum.
During its Los Angeles appearance, Elvis at 21 will be complemented by never-before-seen artifacts, rarely-seen video footage, and exciting public programs.
Artifacts on display will include the first and second guitars Elvis ever played professionally, a handwritten letter from Elvis to a fan, and other unique pieces that, along with the Wertheimer photographs, tell the story of Elvis Presley's rise from young regional star to multimedia rock and roll idol.
Rare 1956 and 1957 Elvis performance footage will be made available in both the exhibit and the Clive Davis Theater, thanks to The Paley Center for Media and the Smithsonian Institution Traveling Exhibition Service. Screening throughout the day, video will include Elvis' memorable 1956 and 1957 appearances on "Stage Show" and "The Ed Sullivan Show."
Public Programs related to Elvis at 21 will be announced shortly, but will include screenings of early Elvis Presley films, continuing education courses, and special intimate tribute performances.
Elvis at 21 is accompanied by a richly illustrated catalog, titled "Elvis 1956," available through Welcome Books. For more information, visit http://welcomebooks.com/elvis1956.