THE GRAMMY MUSEUM'S MUSIC REVOLUTION PROJECT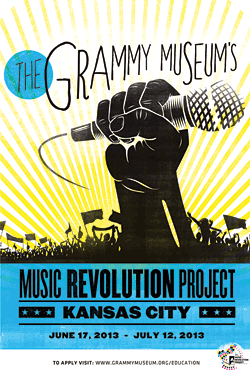 Kansas City: June 17 – July 12, 2013
Tampa: July 22 – August 16, 2013
The GRAMMY Museum's Music Revolution Project will offer creative and gifted musicians the opportunity to engage in musical discourse and performance with other talented young people from their area. High school students from genres including classical, jazz, pop, Hip-Hop, folk, sacred and Rock and Roll, will be encouraged to apply to this world-class music academy, created to broaden their musical and creative skill while helping them establish relationships, increase self-esteem, develop entrepreneurial skills and grow their passion for music. This four-week summer academy will begin in Kansas City on June 17, 2013 and culminate on July 12, 2013 with a formal student concert for their family, friends and community. The Tampa Music Revolution Project will take place from July 22, 2013 and end on August 16, 2013. Students will participate in music history and composition classes; have mentoring sessions with GRAMMY Award nominees or winners and form ensembles with their fellow classmates.
Kansas City Registration Closed!
Tampa Registration Closed!
How will students be chosen for the GRAMMY Museum's Music Revolution Project?

Students who submit the required application, recommendation letter and performance video will be reviewed by the application board. Once these semi-finalists are chosen, they will be asked back for a one-on-one interview with program directors.

What is the age range for the GRAMMY Museum's Music Revolution Project?

Students between the ages of 14 and 21 will be able to participate.

Are students from outside of Kansas City and Tampa able to participate?

For the 2013 program, students are required to live in the greater Kansas City or Tampa area, depending on the program. Subsequent programs will cast a larger demographic range in regards to applicants.

How much will it cost for my student to participate in The GRAMMY Museum's Music Revolution Project?

Nothing! The Music Revolution Project is free for students who are chosen to participate.

What are the hours my student will need to be at the program?

The program will run Monday through Friday, from 9:00 AM to 3:00 PM

How will my student get to the program?

The students need to provide their own transportation, but parking will be provided for the students.

Will my student need to bring lunch?

Yes. Please have students bring a bagged lunch or money to purchase lunch.