Free After-School Program for High School Students
DJ: Scratching and Mixing
Dates: September 19, 2014 - October 24, 2014
Day/Time: Fridays from 4pm-6pm at The GRAMMY Museum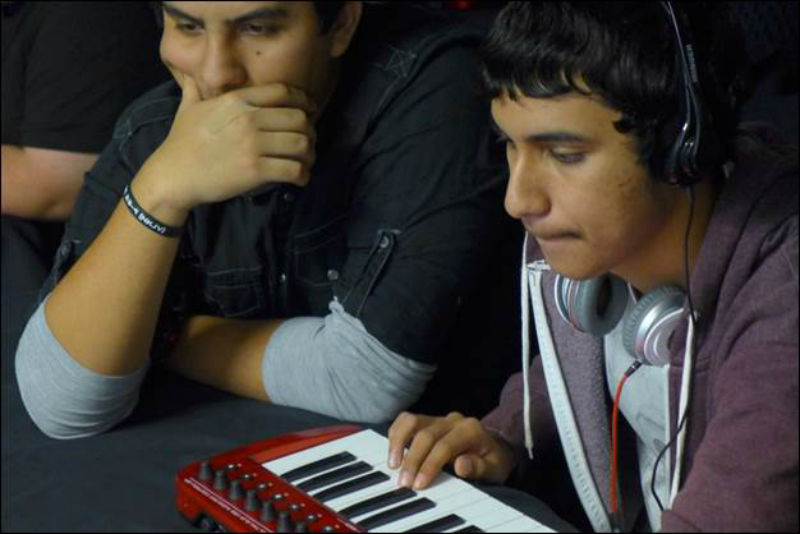 This six-week hands-on course is designed to equip students with the basic skills and techniques needed to become a DJ. Students will be introduced to the history and evolution of the DJ as well as ask them to research and study different genres of music to create a timeline mix-tape.
Week One:Orientation
Week Two:Catalog and Playlist
Week Three:Intro to Mixing
Week Four:Tricks and Techniques
Week Five:Timeline Mix-tape
Week Six:Timeline Mix-tape listening party
RESERVE YOUR SPACE
These programs are free to high school students in the Los Angeles area and are filled on a first come, first served basis. For more information please email education@grammyuseum.org or download the application here.
The GRAMMY Museum's Council District One Music Education Program
Presented by Councilmember Gil Cedillo
The GRAMMY Museum and Councilmember Gil Cedillo are excited to announce a six-week program for students in the Pico-Union area focused on learning about the history of their community, both musically and otherwise. This six-week long program will take place on Saturday mornings both in MacArthur Park and at The GRAMMY Museum. Students will learn the process of songwriting, write their own original music inspired by their neighborhood and perform their songs for the community during a final performance in MacArthur Park. For more information or to apply for the program, please email education@grammymuseum.org.
The Mike Curb Music Mentoring Program
With help from some of the biggest talent in the music industry, The GRAMMY Museum and Mike Curb have created a music mentoring program for approximately 25 Los Angeles area students each year, helping them establish relationships, increase self-esteem, develop leadership skills and grow their passion for music while offering them support long after they graduate the program. Mentees are paired with musicians, music executives and other leading industry professionals based on the mentees interests and potential career goals. The program consists of large group activities at the GRAMMY Museum and surrounding venues as well as one-on-one instruction between the individual mentor and mentee. Mentees are expected to maintain good academic standing or show constant improvement in order to remain in the program.
Program Goals
Prepare youth to pursue post-secondary education and professional careers in the music industry
Increase access to music programs in underprivileged communities
Develop a program that teaches both leadership and life skills
Create a safe environment for students to express themselves
Increase self worth by offering a program that helps cultivate self-esteem
For more information, email education@grammymuseum.org.
GRAMMY Museum Student Leadership Council
Are you a student with leadership potential who is passionate about music? The GRAMMY Museum's Student Leadership Council will play an integral role in the educational programming of the Museum. The purpose of the Student Leadership Council is to provide youth a voice in all aspects of museum programs. Students will help spread the word about the GRAMMY Museum and be a walking example of how music engages and empowers students. Leadership, public speaking and event production are just a few of the skills students will gain through their involvement. Additionally, students will start a youth-driven online music magazine, providing them with hands-on editorial experience and an opportunity to build their resume.
Please email education@grammymuseum.org for more information.
Summer Sessions
Learn about careers in music from industry professionals.
These week-long sessions are designed to teach high school students about the music industry. The programs, taking place in the Museum from 10am to 4pm each day, feature workshops on careers in the music industry taught by industry professionals, history of music classes and the chance to play music with students from around Los Angeles. Check back soon for next year's dates or email education@grammymuseum.org for more info!